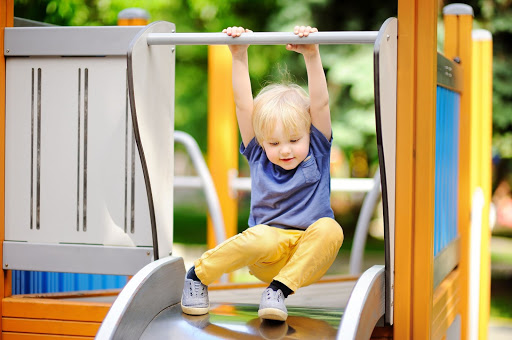 Playsystems are incredibly versatile. They come in a variety of sizes, and when you can add on pretty well any kind of plastic playground component you want, you can customize them to suit any need you have. Daycares can choose a small playsystem to fit neatly in an indoor space, but parents and guardians can just as easily order a playsystem or individual playground equipment for a backyard. However, as flexible as playsystems are, they're an investment, too.
We've been making playground components since 1972, so we've picked up our fair share of tips and tricks when it comes to choosing a playsystem that will provide you the best value for your money. As you browse through online catalogues and begin putting together your plastic playground wishlist, keep the following three rules in mind to help you make the best choice.
1. Stay classic.
Fads come and go, but the appeal of plastic slides, playground climbers, and activity panels are forever. Instead of opting for a playsystem with a specialized design or a gimmicky attraction, you'll keep kids entertained for longer if you opt for a playsystem with more traditional components. A swing shaped like a motorcycle is cool, sure, but your young guests will get more use out of regular swings. If the choice comes down to a playground with the latest and greatest and a playsystem with all the essentials, go for the essentials every time.
2. Consider the quality of the materials.
For many educators and guardians, the price point of a playsystem is a major factor in their purchase plan, and understandably so. You want to get the best possible product for the best possible price, and you want to make sure that the materials used in the construction of the playsystem will be safe for the young visitors who use it. Wood is a popular choice, but while cedar may resist rot, it's also expensive. For a durable, safe material that will still contribute to the look and engagement of the playsystem, consider plastic playground components.
When it comes to components like climbers and slides, playground equipment made from plastic can be especially sturdy (and long-lasting) if it's made with a rotational molding system. This process ensures no seams or weak spots, maximizing the strength of the specific component.
3. Plan ahead for the future.
When kids are young, they grow and learn in what seems like a heartbeat. This also means that unless you're installing your playsystems in a daycare for toddlers, a toddler-appropriate plastic playground will be obsolete in only a year or two. As you consider your options, make sure that the playsystem provides children with activities that they can continue to enjoy as they age. Circling back to the first point we made, classic items like swings, slides, and climbers are activities that kids of all ages and stages of development can enjoy, which means they'll get more use out of the playground for a longer period of time, making it a better investment for you.
The Latest Playsystems from SPI Plastics
With almost 50 years of experience and plastic playsystems in 40 different countries around the world. SPI Plastics is one of the leading providers of playground components. We design, create, and deliver indoor and outdoor playground equipment, and our in-house rotational molding department means we can produce custom equipment on request.
If you'd like to learn more about our plastic playground components or playsystems, give us a call at 1-800-269-6533 or send us a message online.