Our employees are our most valuable resource. As a team, we grow, developing the knowledge and capabilities of the individual, challenging them to be the best that they can be. Knowledge combined with personal dedication and innovation is our strength.
Foremost, we meet the needs of our customers. We respond quickly to grow, change and adapt, embracing the future with enthusiastic anticipation, the utilization of new technology is the key to our success.
We provide world class products and services to our customers and deliver them with "hometown personal service"
Frequently Asked Questions
Are you looking for distributors?
SPI is looking for distributors for certain product lines in designated regions of the world.
Can I tour your facility?
Certainly, we invite each and every one of our customers to tour our site and see the processes that we use to create our quality products.
What is your method of payment?
Establish an account by downloading a credit application and returning via fax 519-935-2174 or scan and email completed form to spi@spiplastics.com.
Credit card payment (Visa or Mastercard).
How fast can I receive the product?
Production time is scheduled each day in order to meet the demands. If you have a specific deadline please notify us of this upon ordering. Due to the large colour variety and component variables products are manufactured on a demand basis.
Corporate SPI
Established in 1972, SPI Plastics Incorporated has always maintained our mission to provide world class products and services to customers while being a leader in technology based rotational molding techniques. Our distribution network allows SPI's product lines to be represented in over 40 countries throughout the world. These products range from Livestock Waterers to commercial playground product as well as Indoor Playsystems.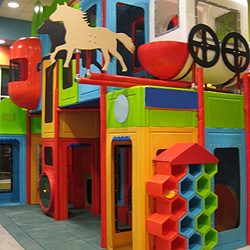 SPI installed a Western Themed playsystem for me last year. It has WOW Factor – the kids play nonstop! When we did the re-build project construction in Alberta was tough. The SPI Team were a pleasure to work with – your team was efficient, organized, ON SCHEDULE, and left my playsystem in perfect condition! The KidsCube™ product is SUPERIOR – it's easy to maintain, clean and the installation was FAST.