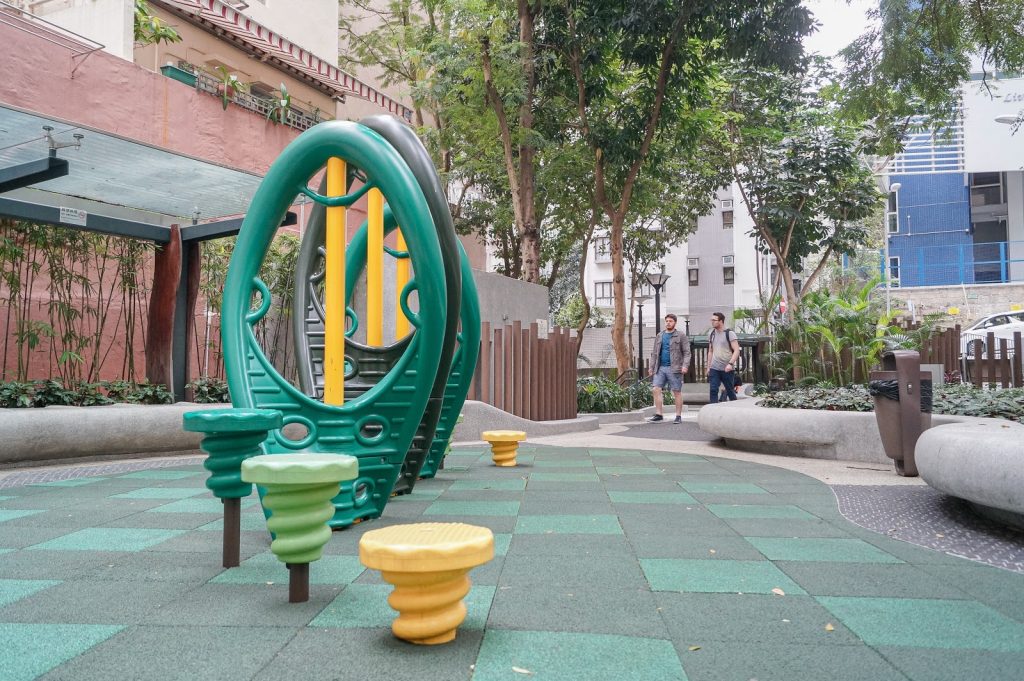 Starting a brand-new project can always seem a little intimidating, no matter what the project is. A blank sheet of paper needs that first mark. A computer document needs that first character. And a playground for children needs that very first piece of equipment. But how do you know what to pick?
A playground is an investment not just in the components, but in the safety and happiness of the children who will use it. We've put together an easy-to-follow, 7-step checklist to help guide you in your selection of playground equipment, eliminating the unnecessary and making it a breeze to pick the components perfectly suited to your location and targeted demographic.
1. Evaluate the Building Site
Before you can do anything else, you need to know what you're working with. How much space do you have to work with? Can your playground be large and sprawling, or do you need to be economical with what you choose? If the location is outdoors, you'll need to consider issues like water drainage and sun exposure. Are there busy roads nearby, or attractive amenities like restrooms or a public park?
You'll also want to take this time to consider the age of your potential visitors. Will you be catering to a preschool audience, or is the goal to create a space that the whole family can enjoy?
2. Determine Your Budget
It's a tried-and-true rule for any responsible shopping expedition: set a budget, and stick to it. Realistically assess how much money you have to work with. Bear in mind that not everything will be going to playground components – you'll need to set some aside for construction, surfacing, and installation, too.
3. Create a Layout for Your Playground
All right. You know what your site looks like, and you know how much money you have to spend. Now, it's time to start the fun part: designing your playground layout. You don't have to be precise about what you want yet (that'll come in a later step!). Right now, you're just deciding roughly where you want things to be. Will a slide be in the middle of the playground, or off to the side? Will you include a swing set, or will you instead place a climbing gym? Don't forget to include plenty of space between different components to account for children swinging or playing.
4. Choose Your Surfacing Material
A surfacing material can make or break your playground. It's what keeps kids safe as they play, and it's also what determines how much of your budget you'll have left for actual playground components. For those who can afford the steep price tag, there isn't much that can beat a poured rubber surface. It's easy to clean and one of the safest materials for kids to play on.
If you need to consider other options, don't worry: there are plenty.
Wood fiber or mulch is affordable and eco-friendly.
Rubber mulch provides the same cushioning benefit as poured rubber, but at a fraction of the cost.
Play sand is affordable and can provide additional play opportunities with digging toys.
Pea gravel is cost-effective and can provide your playground with a nice aesthetic appeal.
5. Select a Slide
The slide is the heart of the playground, so if you're looking to include one, it's important to make a good choice. We've talked before about the differences between plastic slides, but you'll again want to consider the age demographic you're targeting. Younger children will need a shorter, smaller slide that they can safely enjoy. Older children can indulge in higher slides with twists and turns. If you're not sure what kind of slide you're after, our product gallery can provide some inspiration.
6. Select Your Playground Components
It's now time to choose the playground components that will make up the body of your playground. Keeping in mind the specifications and limitations you addressed in the previous steps, determine whether a component will provide the right kind of play and whether it's made from appropriate materials for the location you've chosen.
Outdoor playgrounds will shine with climbing connectors and dexterity challenges, while indoor playgrounds can be structured around a grid system to contain all kinds of activities and games. Remember to plan for the non-fun stuff, too, like a platform to lead to a slide or the grid system that will be necessary to support the different activities you want to include.
7. Consider Complimentary Amenities
You've chosen your surfacing, your slide, and your playground components, so you're done, right? Not quite. You'll also want to consider whether or not to include any amenities in your playground area. Amenities can include benches, Sneaker Keepers, trash cans, bike racks, and picnic tables. These extras can make a world of difference for kids who want to rest or parents and guardians who want to treat their children to lunch at the playground.
You can even design these amenities to complement the style you've chosen for your playground. If you can't find quite the right style of equipment, you can always request a custom-designed component. At SPI, for example, we create customized playground equipment with our rotational molding process. It's an affordable and easy way to make your playground unforgettable.
And with that, you should be well on your way to creating a functional, enjoyable playground for children. If you'd like more information on SPI's range of indoor and outdoor playground components, or if you have any questions about what to include in your playground, give us a call at (519) 935-2211. You can also send us a message online.