What is Custom Molding?
Custom Molding is a process used to manufacture hollow, seamless plastic parts. Parts are long lasting, durable, lightweight and resistant to corrosion. A finished part can be constructed using numerous molded pieces. For example: The SkyShed Pod www.skyshedpod.com is a designed product that is molded in sections to create a top of the line finished product.
Common molded parts include containers, leisure craft, furniture, sporting equipment, agricultural and garden equipment, tanks, toys, medical and industrial equipment, as well as automotive and transportation components. SPI uses rotational molding for the manufacturing of several product lines including: indoor and outdoor playground, livestock waterer, and many custom molding projects.
Why Plastic?
If you stop and consider all the plastic components you see and use on a daily basis, there's no denying that plastic is a dominant material seen in our everyday life.  The computer you sit and work at is built with plastic, several components of your vehicle are designed with plastic, children's' toys, playground equipment; each of these is built with some variation of plastic.
Plastic technology continues to advance, and over the past 20 years, we have seen drastic improvements in the use of plastic, designing products that have several key advantages. These include:
No chance of rust. Rusting will never be an issue with plastic, while even stainless steel is prone to rust in welded areas.
Plastic can handle several chemical components, which makes it the perfect solution for tanks and additional containers. Plastics can also be designed so that they are fire-resistant, static-resistant, and weather-resistant as well.
Because plastic is a much lighter material than metal, operating equipment that has plastic components means less fuel is required which lowers your costs.
Plastic is usually cheaper than metal to purchase. Due to the fact that rotational molding provides the ability to design one-piece construction, assembly duration, and assembly fees, as a result, are much lower.
Plastic components will not dent as they are very resistant to impact of any kind. Plastic parts can also be reinforced with inserts in high-stress spots.
Molding plastic isn't enough; SPI offers the talents and strength of a full service company ready to meet your challenges and requirements. There are many products both created and used each day throughout the world that can be adapted and/or enhanced by rotational molding techniques.
Our custom molding can effectively produce small to large, and simple to intricate parts. At SPI, we'll work with you to determine the requirements of your unique project, ensuring each aspect of your final product reflects those specifications.
Contact Us For More Information
Why SPI for Your Custom Rotational Molding Project?
Product Design
From Concept to Completion
SPI provides clients with excellent Technical Design Support. We pride ourselves in taking full advantage of technological advances to satisfy and fulfill your unique requirements.
Our product development team of qualified professionals will take you on a journey from "Concept to Completion", keeping you involved, informed, and on board throughout the entire process. Simply put, SPI shares your goals to create quality products!
Design
We use Computer Aided Designs (CAD) to provide three dimensional (3D) perspectives to both customers and mold makers.
CAD allows us to provide colour renderings or line drawings, producing life-like qualities to your concept.
Product Development
At SPI, our future products are the result of innovative thinking today. Product development is non-stop at SPI. Innovation and diversification are our keys to success. These talents are here to help in creating your success, and our product development team provides new visions which become product realities.
Have something in mind? Ask us about your custom rotational molding project!
Tooling and Prototypes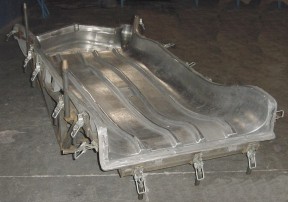 Tooling and prototypes are key to your custom design project. SPI provides you options from start to finish.
cost-effective tooling options
innovative design
mold maintenance options
tooling, prototypes and production parts delivered timely
Options:
bushing, inserts, core pins
cast aluminum
CNC tooling
fabricated aluminum
molded-in inserts
multiple cavities
textured surfaces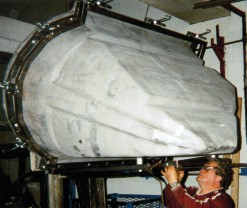 Take a Look At Our Project Gallery
Secondary Processes
Once your part has been rotationally molded, there are a large variety of Secondary Operations that occur. For example, parting lines can be trimmed and to achieve shine, your part can be flame polished. Rotational molded parts can be drilled, milled, sawed, or spin welded, and cooling jigs or fixtures may be used.
SPI also offers pre-assembly of custom sized orders. The below photograph demonstrates a custom order with pre-assembly of a Starglide slide.
Great slide, great fun!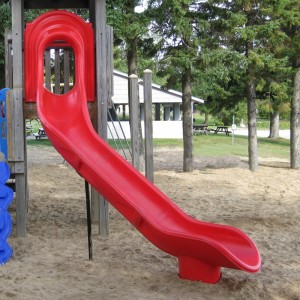 Quality assurance is critical in ensuring secondary processes are carried out and completed with the highest level of expertise and precision.
Our secondary processes are completed in-house at SPI, for efficient service that is equally cost-effective for our clients.
Available Secondary Processes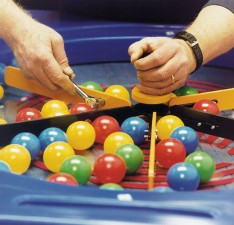 Assembly
Bar coding availability
CNC Machining
Custom Packaging
Drilling
Flame Polishing
Just-in-Time Delivery System
Mold Maintenance
Molded in Graphics
Molded in Threaded Inserts
Polyurethane Foam Insulation
Welding