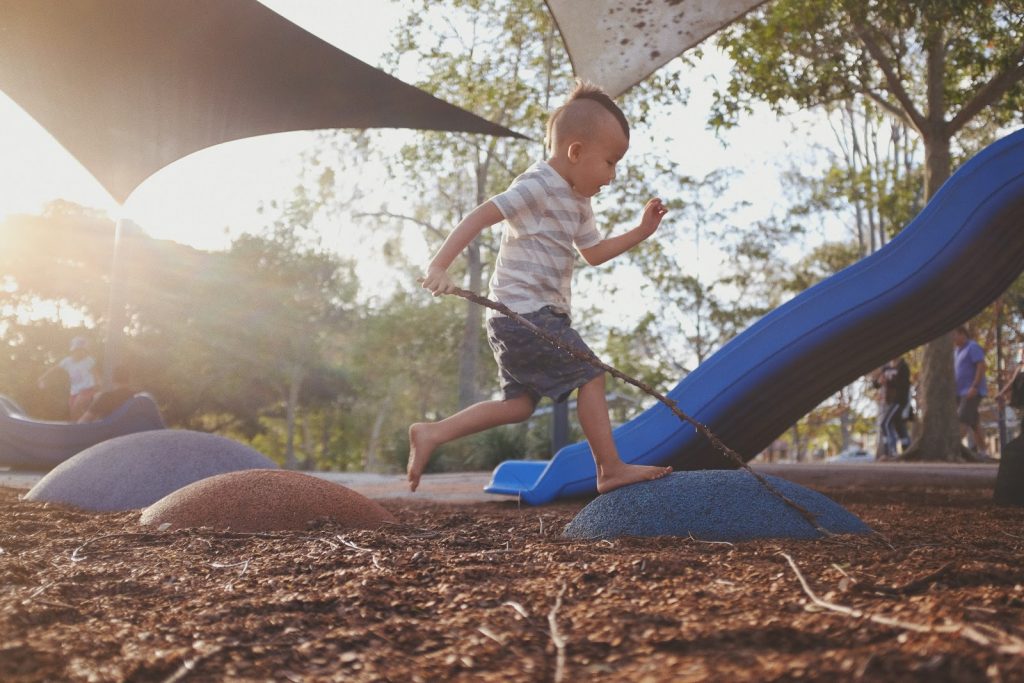 Creating a custom playground is an exciting – and intimidating – task. There are so many factors to be taken into account, but in the end, the reward is a stimulating, welcoming environment where children can play, socialize, and grow.
If you're looking at creating a playground of your own, you may not be quite sure where to begin, or what options you have. Don't worry; from space considerations to choosing your playground equipment, we're going to walk you through the process.
Find the Right Space
The first decision you'll have to make is where your playground will physically be located. The boundaries you're able to work within will depend on space available and whether or not you want to install any complimentary amenities, like benches or a water fountain. Make sure that there are trees or some other form of shade to provide children with a place to rest in the hotter months (and if there currently isn't any shade available, you'll want to include that requirement into your choice of playground equipment).
You'll also want to make sure that your playground location is easily accessible for any machinery that will be required to create it. There are few feelings worse than the dawning realization that the space you'd hoped to use is too small for any work to take place.
Determine Your Budget
Before you get to the fun part of picking out playground slides and other play equipment, it's important to establish your overall budget for the project. This means factoring in costs like freight transportation, any site preparation that must be done, the cost of your chosen playground surfacing, and, of course, the estimated cost of your plastic playground equipment.
Once you have your budget allocated for each segment of your playground creation, you'll be able to get a better idea of the kinds of equipment you can purchase.
Playground Surfacing: Which is Best?
The pricing of your chosen surfacing will vary depending on the manufacturer and shipping costs, but there are definite pros and cons to the options available.
Solid Rubber – A solid rubber surface on your playground means minimal maintenance and easy, slip-resistant access for strollers. However, it's also easily the most expensive option for surfacing, so you'll want to carefully consider whether your budget will allow for its installation.
Artificial Turf – Requiring little more than an occasional rinse, artificial turf is an attractive option to keep your playground looking green and fresh all year. Like the solid rubber, however, it is on the more expensive side.
Sand or Gravel – You'll want to make sure that the sand or gravel you purchase is specifically created for playground use, but they're one of the most cost-effective options for playground surfacing.
Rubber Mulch – Rubber mulch provides all the bouncy benefits of solid rubber, but without the exorbitant cost. As with sand and gravel, make sure that the mulch you purchase has been specifically rated for safe use in a playground.
Engineered Wood Fiber (EWF) – If you're looking for surfacing with some durability, consider EWF. It provides a soft surface, it's affordable, and it's fairly easy to install.
Picking Your Equipment
Congratulations: you've made it to the fun part of planning your custom playground! Now is the time when you get to choose what you'll include for daily play. Remember to consider items that are appropriate for the age range of children that will be visiting, and choose equipment that will provide opportunities for both physical and mental development.
Custom-Created Playground Equipment<
To truly make your playground one-of-a-kind, you may want to create an entirely new plastic playground piece. If you've got an idea for what you'd like, there are plenty of ways to create custom playground equipment. At SPI Plastics, we use rotational molding to create seamless plastic pieces in almost any shape you can imagine.
Making Your Custom Playground a Reality
Playgrounds are a special place; for many of us, they're the backdrop to some of our earliest memories, and giving the next generation that same opportunity is a thrilling experience. Let SPI Plastics help you make your vision a reality with high-quality indoor and outdoor playground equipment.
For more information on custom playground components or pre-made plastic playground equipment, give us a call at 1-800-269-6533 or contact us online.