If you are in the midst of opening up your own daycare center, remember that outdoor play is just as crucial to incorporate as indoor play. With that in mind, always extend your play area to the outdoors to provide children with both options.
Large play equipment assists children develop large motor skills such as running, climbing and riding tricycles or other wheel toys. Through adequate adult guidance and proper supervision, children will develop the ability to take risks as well as learn about risk control. These are essential skills to learn at a young age, because they will be practiced as they enter into elementary school.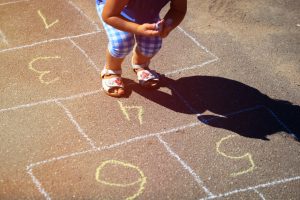 When it's time to select your playground equipment, much of the decision will be based on how much room you have and of course the age group(s) of the children you are caring for as this will vary.
What is deemed as safe playground equipment for one age group, could be a potential hazard for another; so we highly recommend following the below guide when it comes to designing a playground that is both safe and appropriate for children.
As stated by the U.S. Consumer Product Safety Commission Public Playground Safety Handbook, playground products for each age group may include:
6 – 23 months:
Climbing equipment under 32 inches
Spring rockers
Stairways
Swings with full bucket seats
Ramps
Single file step ladders
Slides/Spiral slides less than 360°
2 – 5 years:
Balance beams under 12 inches
Horizontal ladders under 60 inches high (for 4-5 year olds)
Slides/Spiral slides
Spring rockers
Stairways
Swings (belt, full bucket seats, rotating tire)
Merry-go-rounds
Ramps
Rung ladders
5 – 12 years:
Arch climbers
Free-standing climbers with flexible parts
See-saws
Stairways
Swings (belt and rotating tire)
Vertical sliding poles
Ladders (horizontal, step and rung)
Merry-go-rounds
Ramps
Slides/Spiral slides
Aside from playground equipment, here are some outdoor toys for young children in daycare:
Push/Pull toys
Riding toys
Balls
Hoops
Water table and toys: Make sure you are constantly supervising children at a water table for safety reasons. Check that the water is kept clean and fresh on a daily basis. Be sure there is a sufficient supply of toys so that many kids can play at the same time. Don't allow children to play with things like cups and bottles, as these could very easily sway children to drink the table water. Make sure there are toys available for dripping, pouring, measuring, and squirting.
Sand box and sand toys: Always make sure you can keep the sandbox shut securely afterwards so it can be properly drained. You'll want to position any sandboxes in a sheltered area away from wind.
Interested in starting your Daycare playground project? Please get in touch with SPI Plastics for product information and design configuration. We have so many options for you to create the perfect and safe space for children.
Call us at: 1-800-269-6533