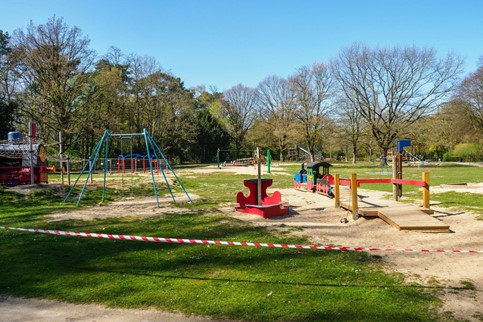 Many different places have outdoor playgrounds, schools, parks and even homeowners, as they are important tools for children to learn by playing. Since they are such important tools, they need to be looked after and cared for so they are in working order and safe for your children, but what if your outdoor playground is falling apart? Then it's time for a new one.
Today's outdoor playgrounds are safer, more exciting places to play. Old metal and wood playground equipment isn't the safest option anymore. Parents need to consider how their playground looks and what safety features are most important to them. This is why building a brand new playground requires careful planning and wise decision-making, so you decide what building materials, surfacing material, and other features are best for your new play area. Making a safe and fun play area that fits within your allotted budget can often be a challenge without a clearly defined plan. However, when done correctly, building a brand new playground will add value to your property while enhancing the safety of kids and preventing injuries.
Before you start building a new outdoor playground, there are some basics to consider that will make things go easier for you and ensure you get it right the first time.
Things to Consider
Safety
It's easy to get caught up in designing the playground's look, which is fun, but many technical issues should be considered when planning the new playground. Safety should be your number one concern. Before getting started on any building work or playground maintenance, make sure you have a playground safety plan in place that outlines the safety features and measures. This plan should include at least the following important elements: Safe seating, fences, handrails, barriers, and more.
Surface Area
Choosing the right surfacing material is essential when planning a new outdoor playground. Choose high-quality concrete surfacing material to ensure that your new playground will be structurally sound. Many different playground equipment companies offer a wide range of options for surfacing. Many companies offer options that include all kinds of surfaces – including brick, pavement, concrete or asphalt but they might not be the safest option; sand and softer materials are best as they provide a safe cushion. Determine the amount of space you have available for the surfacing of your new outdoor playground, and then choose surfacing materials that will allow you to create a fun, safe, high-quality play area within your limited space.
Location
When building a new outdoor playground, location plays an important factor; whether it's a playground for a school or your backyard, you need to find that perfect spot. When scouting out locations, you always want to be aware of potential safety hazards. An example would be if it's going to be close to a road, you will want to make sure that you include fences. Another thing to consider location-wise is its size, so you know how big your new custom outdoor playground could be.
Budget
Another thing to consider is the cost of the materials and any other custom parts you may need to install your new outdoor playground design. When choosing a size playground, you will want to keep in mind the price range available. Playground prices usually increase as the play unit becomes larger, so if you're looking for a cheap playground unit, try and stick with a smaller unit that will last for several years. If you have a larger budget, you can add some customized playground equipment to your design to provide better learning experiences for your children. It's important to do your homework and make sure that you are getting the best deal possible for custom playground equipment.
Design
Another factor that needs to be considered is incorporating the different kinds of activities children will be doing on the playground. There are many different kinds of players and equipment for children to use, which means that there should be a design that's appealing to children and functional as well. By considering both of these aspects, parents and designers can develop excellent outdoor playground equipment designs that will please children and adults alike.
You will want to design for every level of physical ability; all-inclusive playground systems feature everything your kids need to get moving: running, climbing, sliding, and tumbling. There are many kinds of playground equipment that you can choose from, including climbing walls, monkey bars, slides, obstacle courses, and more. Choose one that matches the specific needs of your children. It's important to do some research to find out what playground components are best for your children's learning.
The team at SPI Plastics can assist you with building your new playground. Get in touch with us today.