Co-working office space is a rapidly growing trend; while the concept was designed over 10 years ago, it started as a simple idea to make use of basic infrastructure and resources which otherwise may not be available in a standard office environment. Now more and more businesses and entrepreneurs are seeking these environments to provide flexible working space, reduce costs, and offer more options for their team.
The Work Lodge, an innovative co-working space for entrepreneurs in Houston Texas, was founded by CEO Mike Thakur, who was looking for a meaningful place to work outside of his comfortable home setting. He was tired of feeling isolated and wanted to be a part of a collaborative community where the work environment would be centered around integrity and honesty.
The Work Lodge as it came to be, has a modern design that appeals to virtually any industry and professional background, making it an ideal space for co-working and if desired, networking.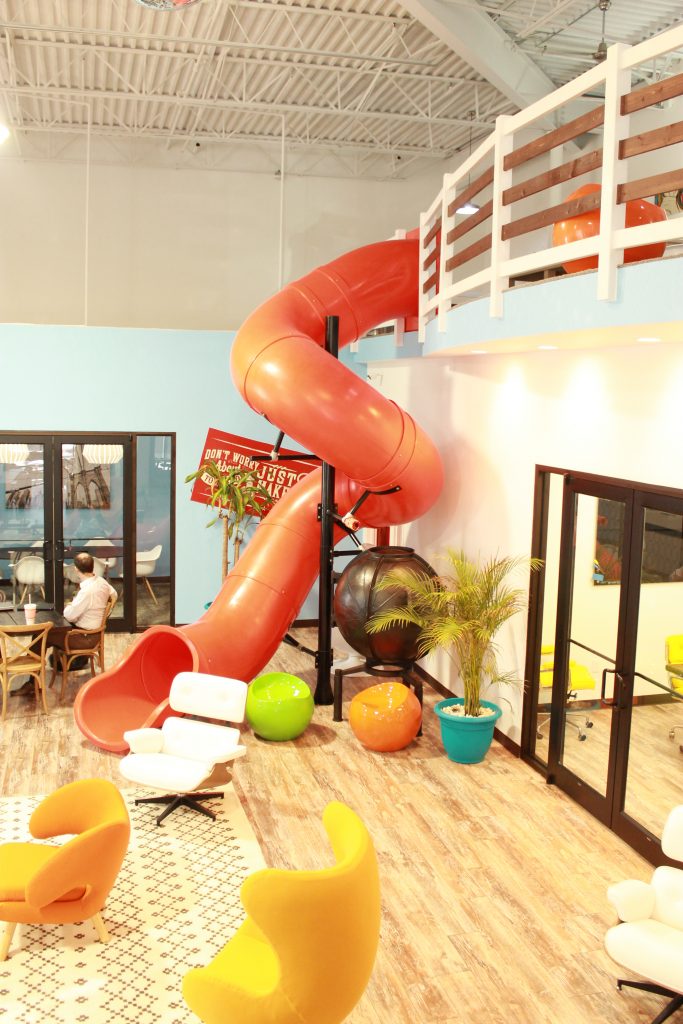 Some Highlights and Key Features of The Work Lodge:
Fixed and honest pricing
Flexible work spaces
Unique architectural design
Economical and functional design
A signature spiral plastic tube slide!
Yes you read that right; a sleek, pumpkin spice orange spiral slide, weighed 555lbs and measuring 30 inches in diameter, with a deck height of 12 feet. That's a whole lot of slide!
How Did This Come About?
From the beginning Thakur had a vision, and part of this vision was to feature bright colours throughout the workspace to give the area a positive energy that is inviting and welcoming when you walk through the doors.
Throughout the work lodge, there are engaging work spaces featuring tables and stools that allow for comfortable conversation; of course the most unexpected rotationally molded piece is the signature spiral plastic slide! The biggest conversation starter in the building, because who doesn't come off a slide smiling? While it wasn't an immediate decision, Thakur concluded a slide would keep smiles flowing, making the perfect statement piece. Other possibilities included a roller-coaster carriage and track and even a carousel. After weighing out the pros and cons of each, he concluded a tube slide was the ideal choice! Next consideration was who in the world would be able to make this thing a reality? The process to bring his vision to life wasn't an easy one and in fact was almost dropped all together. After networking with a potential client, Thakur was introduced to Christian Cordero at Adventure Playground Systems in Houston, Texas. After considering the design and installation requirements needed for the job, he immediately mentioned SPI Outdoor Play (a division of SPI Industries Inc.) would be the best manufacturer for the job.
SPI is recognized for manufacturing colourful rotationally molded pieces that are bright, colorful and most importantly durable. A plastic, rotationally molded tube slide would not only look amazing, it would be virtually maintenance-free, and durable for long-term use. The plastic tube slide from SPI would have no moving parts, making it a cost-effective and logical choice. While of course being the most entertaining one!
So what did The Work Lodge think of their new center piece? Their sleek, spiral slide, was (and still is) an incredible hit! The assembled specialty slide was installed in 48 hours and was immediately all the hype and craze at The Work Lodge; in fact, onlookers couldn't wait to test it out! The unexpected piece provides an energy to the room, offering an edgy but relaxed environment for fellow lodgers.
Why Consider Adding a Fun Element Like This to Your Office?
It's important to provide employees or fellow entrepreneurs, with a fun and collaborative work environment. While working hard is important, the opportunity to unwind and enjoy yourself a bit Is equally beneficial. As more modern tech companies like Google continue to incorporate these fun elements, it's not uncommon to see modern workplaces that have a room dedicated specifically to games, such as an arcade, foosball table or ping pong table
SPI Industries' mission is to offer world class products and services to clients, while remaining as a leader in technology-based rotational molding techniques. Our products include watering equipment for livestock, custom manufacturing, indoor playground equipment and outdoor playground equipment. The keys to SPI's success derive from innovative and progressive thinking, all of which make customization and colour rendering a unique possibility for clients.
As mentioned by Sales Manager, Cynthia Masters, SPI offers clients across the globe with turnkey custom slide projects, production, pre-assembly, and shipping and installation services. Custom slides aren't just seen in playgrounds, they can also be found in office buildings across California and in Buildings like The Work Lodge.
The most important aspect to remember? You are never too old to have fun! SPI makes slides for children AND adults.
Contact us today for more information on our custom molded products and the many custom molding projects we can make happen. Call 1-800-269-6533.