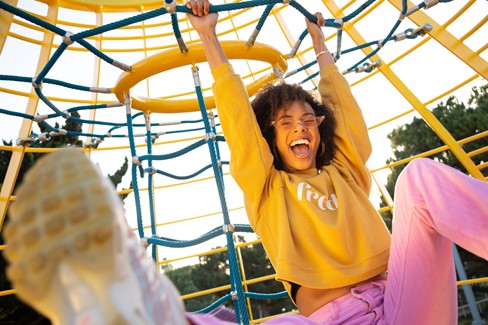 When you're setting up a fun, exciting new play system for young visitors, you want it to have it all: an appealing design, plenty of safety features, easy visibility for parents, and a robust yet easy-to-clean construction for your staff. But with so many options available on the market, finding the perfect play system – plastic slide and all – can be a tall order.
At SPI Plastics, we've been designing and manufacturing playsystems for over 40 years. We know ours are the best, and we've got five reasons why we know you'll feel the same way.
1. Modern Designs
Playsystems don't have to look like you dug around in a storage shed and pulled them straight out of the 1990s. Gone are the clunky, space-hogging designs of the past. Welcome to the Lexan Units of the future. With colourful, minimalist designs and active play features, Lexan Units can also be branded or decorated with graphics to suit any desired look. The clean structure lines allow parents to easily keep an eye on their youngsters, and the customizable footprint means it can fit seamlessly into any existing space.
2. High Visibility
Safety is an essential component for any play area, and a large part of that is allowing parents and guardians to keep an eye on their kiddos. It's for that reason that each and every one of SPI's plastic playsystems has been designed to allow the maximum possible amount of visibility, no matter where kids are within the play area. From bubble windows to vented walls and netted play areas, your playground won't just be one that kids love to visit. It'll be one where parents can relax, too.
3. Low-Maintenance & Durable
Sometimes, the vision you have in mind is one that can't be found in an off-the-rack product. When that's the case, there's Grid Systems. With a Grid System play area, you determine the layout from top to bottom, and the Grid System can accommodate whatever playground features you want to highlight. For example, are you looking to include a ball pit? The Grid System will let you make it as large or small as you like. Want to feature a riding animal stop on the ground floor? Climbing platforms with the Grid System will allow young guests to either continue their exploration or pause to play.
Best of all, Grid Systems are designed for minimal maintenance, which means your staff can keep the area clean and tidy while also making the best possible use of their time to ensure playsystem visitors are safe and happy. You won't have to worry about constant repairs, which also means you can be confident that your investment in a Grid System play area is one that will pay off.
4. Make the Most of Minimal Space
Got your heart set on achieving great heights, but only have a finite amount of floorspace to work with? SPI's Mega Towers provide a safe and secure way for children to explore like never before, all while allowing parents to supervise with an innovative, high visibility design. Bubble windows and climbing platforms make it easy for kids to discover new views, and the standardized measurements make it easy to mix and match your favourite playground components like slides and climbing tubes.
5. Designed for All Ages
Most playsystems are designed to cater to a particular age demographic, but at SPI, we recognize that children of all ages and abilities will be visiting your playground. Toddler Playground Equipment is specially designed for younger children, and can be implemented right alongside your chosen playground design. With lower platforms to prevent injury and age-specific activities, toddlers will be able to explore, play, and grow, all from a safe environment.
Playsystems From SPI Plastics
With glowing testimonials from customers all around the world, it's no wonder that SPI Plastics is one of Canada's leading providers of playground equipment and playsystems. We even offer in-house custom rotational molding, making it easier than ever before to bring your unique vision for your playground to life. From the 3D rendering right up to your final product creation, our designers will be with you every step of the way.
When you want the best for your play system, you want SPI. For more information about our play systems, slides, or playground equipment, call us today at 1-800-269-6533 or contact us online.