Playground equipment is an important part of childhood. It provides children with a place to explore, learn new things and have fun. That's why SPI Plastics is committed to providing quality playground equipment to markets across Canada. We are proud to serve clients in many different markets, all looking for the best products possible. Our team has years of experience in the industry, and we are always working to improve our products and services.
The Different Markets We Serve
Schools
You want your school to be a place where children can learn and grow. But you also want it to be safe. That's why SPI Plastics is proud to offer a wide range of playground equipment that is designed for safety and durability. We have products to suit any budget, and our team is always available to help you find the right solution for your school.
Residential Homes
A backyard is not complete without a playground. Kids love to play, and they need a safe place to do it. With an SPI Plastics playground, they will have hours of fun right in their own backyard. We have a wide range of products to choose from, so you can find the perfect playground for your family.
Parks and Recreation
Parks and recreation areas are important gathering places for communities. They provide a place for people to come together, relax and have fun. We can help you make your park or recreation area even more enjoyable with our high-quality playground equipment.

Churches
Churches are places of worship, but they can also be great community centres. Many churches now offer activities for children and families, and playground equipment can be a valuable addition to these facilities. We have a wide range of products that will suit any church, and our team is always happy to answer any questions you may have.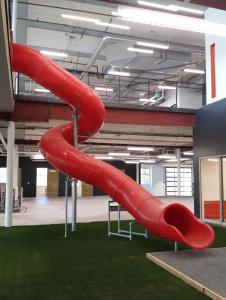 Office
It has become quite popular to add slides and other playground equipment to office buildings. This is because it can help to create a fun and relaxed working environment. It can also be a great way to attract and retain employees.
Firehouse
Slides are not just for office buildings! Firehouses are another type of workplace that can benefit from the addition of a slide instead of your typical fire pole. It's a great way to let off some steam, and it can be a fun way to get from one floor to the next.
Ready to find the perfect playground equipment for your needs? SPI Plastics is here to help. We serve clients in many different markets across Canada, and we are always happy to answer any questions you may have.
Contact Us For More Information